Join the community in the Hive Discord to welcome Huobi's Ciara Sun in an AMA style chat session on April 22, 2020! Use this post to submit questions for tomorrow's event.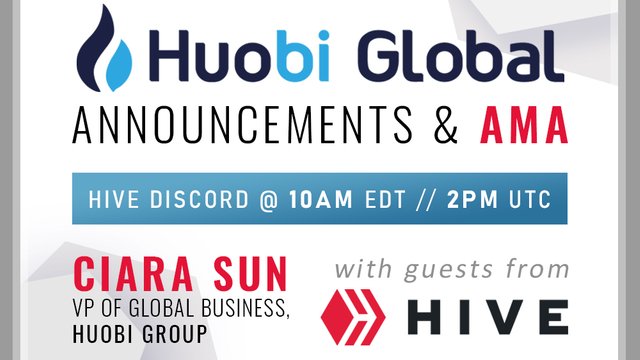 There will be lots of news to share and time for questions and comments! Some Hive users will be helping Ciara facilitate this chat and participating with a few questions you may have about Hive and our ecosystem, so please submit for both groups in the comment section here… this is where the main questions will come from.
Take the time to read through and support the ones you would most like to see asked: look to see if your question is already submitted, and reply or add a vote to it to help create an interesting and valuable AMA for everyone! Tomorrow morning, questions and comments may be submitted during the AMA as time permits.
Here's how to participate:
Check the comment section for questions you'd like to ask about Huobi Global and their services, about the Hive ecosystem, about………
For the full article please go to:
https://hive.blog/hiveblockchain/@hiveio/huobi-global-hive-ama-april-22-discord-telegram-ciara-sun